#NVJOB STC8 Pro (Advanced Shader for Unity SpeedTree 8)
A downloadable asset pack
Full instructions - nvjob.github.io/unity/nvjob-stc-8-pro
This is an extended version of the STC8 shader.
The STC8 Pro shader support Instanced Indirect from Vegetation Studio Pro.
This is a shader for SpeedTree version 8.x for Unity. The shader has advanced settings compared to the standard Unity shader for SpeedTree. The shader fully functions in Forward Rendering and Deferred Rendering (including Subsurface Emission). Shaders have great scalability. The shader allows you to increase performance, but to the detriment of appearance, or to get a better image, but to the detriment of performance.

Using this shader, you can adjust the wind (speed, amplitude, swaying branches, etc.). The wind settings in the shader, allow you to fix incorrectly configured wind settings in SpeedTree, as well as synchronize and adjust the wind for all vegetation separately. You can adjust the wind parameters for each vegetation individually.
Features:
- Full wind setting.
- Advanced settings for visualization of vegetation.
- Support for all functions in Forward Rendering and Deferred Rendering.
- Works with Vegetation Studio Pro.
- Good performance.
Attention! There are no examples in the asset because the SpeedTree license prohibits the distribution of SpeedTree files to other marketplaces. You can download the examples separately, or just use the instruction included in the asset.

For Unity version of at least 2019.1.8 (Built-in Render Pipeline)
Current version 3.2.1
Do not buy this asset, if you do not know why you need it, use the version of STC8 (free).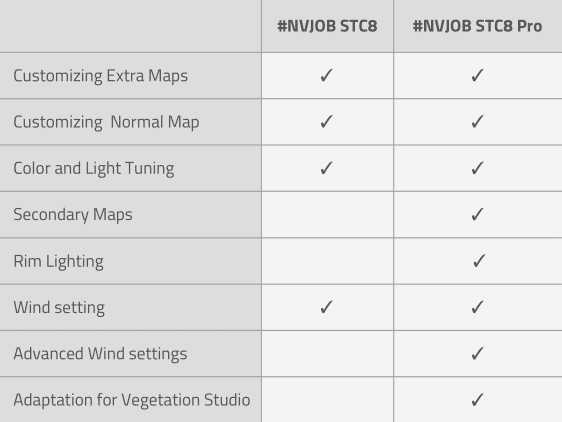 -------------------------------------
Nicholas Veselov Unity Developer
Николай Веселов Unity Разработчик Санкт-Петербург
Purchase
In order to download this asset pack you must purchase it at or above the minimum price of $9.90 USD. You will get access to the following files:
#NVJOB STC8 Pro.unitypackage
560 kB